Processing of Mango Concentrate
Receipt of raw materials: After havesting, mangoes will be through the preliminary classification: large and small according to prescribed standards. The ripeness of the fruit depends on how much or how little.
2. The first washing stage: Use a washing machine with aeration to remove garbage, soil, and microorganisms clinging to the fruit.
3. Second washing phase: The fruit is soaked in a 5ppm chlorine water tank for 8-10 minutes, to kill all the remaining bacteria.
4. Tear by shredder: The fruit is passed through a shredder to be cut into many small pieces.
5. Seeding scrubber: The fruit is transferred to a modern scrubber to get the fruit juice thoroughly. The whole shell and seeds are separated.
6. Centrifugation to separate impurities: The fruit is passed through a centrifuge to separate small impurities, black dots.
7. Concentrator: Mango juice is dewatered to achieve a higher Brix degrees.
8. Sterilized 2L PET plastic bottles: Mango juice concentrate meets the standards of taste and color, is filled into 2 liter PET plastic bottles, which have been sterilized before.
9. Storage and preservation: The bottles of mango juice concentrate are put into storage with the shelf life of 12 months.
10. Export: The mango juice concentrate exported according to the order according to the packaging standards are PET bottles with a capacity of 2 liters or PE bags with a weight of 10kg.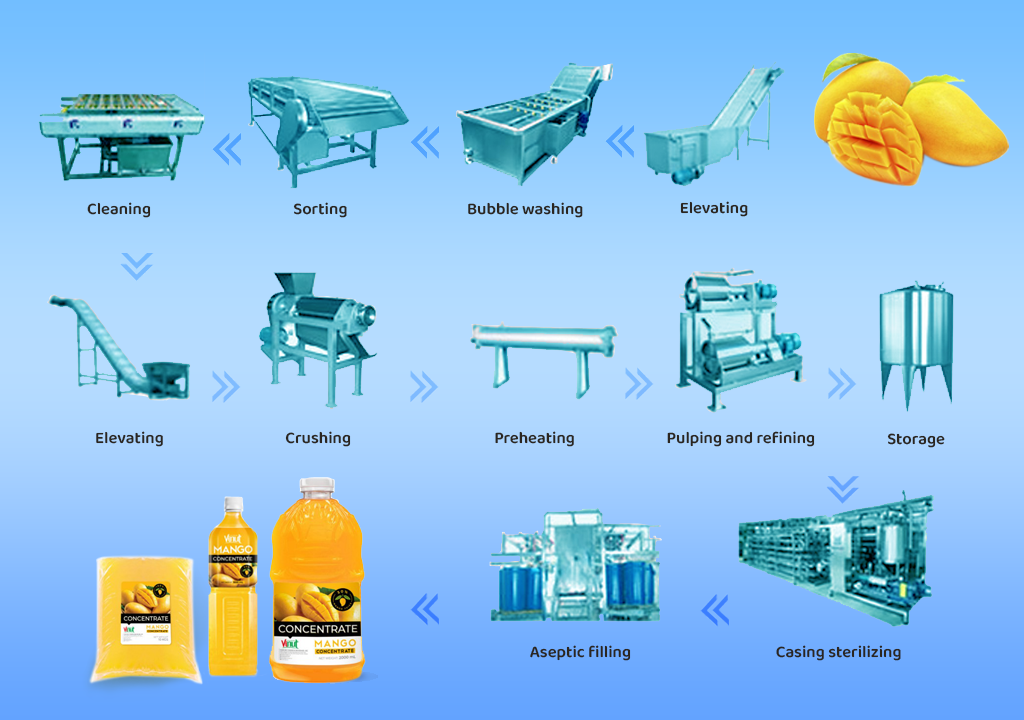 Vinut mango juice concentrate is guaranteed with international standard production process. Contact us now to have your order with the most flexible delivery system available to you.